Hello friends!
We have a beautiful entry to share with you today, we just love this page by
Nina Stenzel
for it`s soft layers and spring-y photos.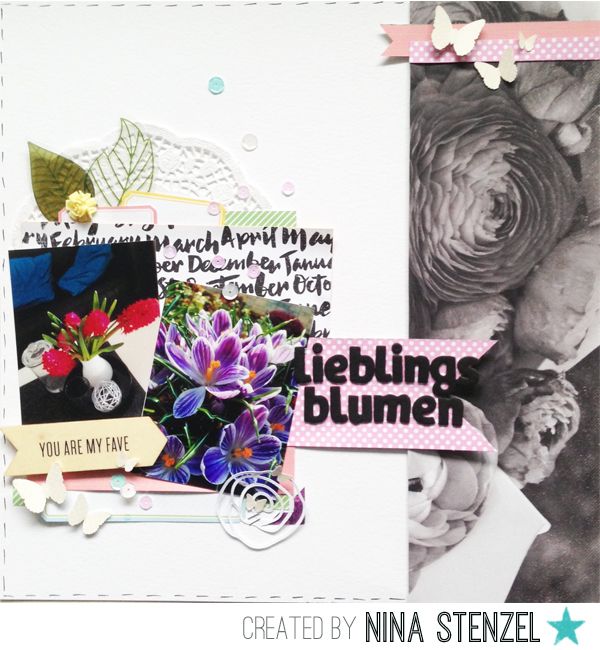 We hope you join in on our challenge, our sponsors this month have been with us for a long while now and hey are offering some fabulous prizes!
First up a big thank you goes out to
ScrapMatts
, they are offering 2 large pieces of chipboard to one lucky participant!
ScrapMatts is a place to learn, share ideas and view some great design concepts, while offering Australian Made, Laser Cut Chipboard, original shapes and designs, made to compliment your scrapbooking pages or your card making projects
AND thank you to
ScrapMuch?
for also sponsoring this challenge. They are offering a $20.00 gift certificate towards project kits (shipping not inclusive) to a second lucky winner.
ScrapMuch? is an online and mobile store, that specializes in event sales, retreats, crops and classes. We offer great products at competitive prices, including a very economical kit club that is an exciting and affordable way to add to your scrapbook stash and inspire you to create.
Here is a reminder of your sketch....
As well as being one of our sponsors for this challenge,
ScrapMuch?
is also co-challenging with us! They are launching this colour challenge tomorrow, so you get a sneak peek at it today. If you use our sketch and their colour challenge you can link up to both challenges for a chance at the prize they are giving away, too!
Please link up your layouts over in the sidebar by
February 28th, 2015
to be in the running for one of our prizes! All prizes will be drawn randomly using Random.org to pick a number.
When linking your layouts, please make sure it is linked to the specific post your layout is in, not your blog as a whole as it can be hard for our team to find your layout, especially if you blog often. You can also link from any gallery including Facebook and Flickr. (Though we may not be able to comment in all forums.)
Feel free to combine this sketch challenge with other non-sketch challenges, such as colour challenges.
Please post a link back to Stuck?! Sketches on your blog entry for our challenge. We would also love for you to share the sketch, too!
Thank you for visiting, we cannot wait to see what you create!
Laura
xoxo
PS Please check your blogs, blogger has made some changes and if your blog is set up to have a separate window open up for comments, blogger has added a comment verification that can make it tedious and/or challenging for us to leave comments on your blogs depending on the devices that the team members use to visit you. You may not get comments if you have comment verification activated on your blog. Thank you!